Flourish Learning Trust Strategy for 2022-25
Enjoyment, achievement and wellbeing for all
Our 2022-2025 strategy is underpinned by the Trust's Mission, Education Charter and Values.
Our Mission is to enable children and young people to flourish, lead independent and fulfilling lives, and make a positive impact on the world. We do this by providing them with opportunities, through the highest standards of specialist education, care and support, in partnership with the wider community.
We are a 'learning organisation' that constantly strives to improve. In all our work we commit to our Education Charter found

.
We are proud of our Values and our work together to create them. We integrate these behaviours into our day-to-day work at the schools, our education services and central operations:

Our Strategic Aims 2022-25
Our Trust will:
Be expertly governed and led, in a culture of openness, mutual trust and high accountability.
Provide safe, fulfilling learning experiences with all pupils confident and equipped to enter the wider world.
Increase the number of pupils gaining qualifications and full-time paid employment, including through Project SEARCH.
Be an employer of choice that attracts, develops and retains talent with staff that have a strong sense of belonging. The workforce will better represent people with disabilities (hidden and seen).
Obtain the right level of funding for every pupil enabling us to provide a holistic education, relevant to the changing world and our pupils' needs so they can flourish.
Welcome at least two more schools into the Trust and extend our reach in the SEND sector by providing an expanded outreach and training offer.
Provide access to the best assistive technology suitable to enable pupils' education and enhance their quality of life.
Be significantly closer to being carbon neutral.
Generate income that we can invest for the benefit of our children and young people.
To achieve this we have devised a three-year Strategy Plan that can be read

.
This plan works alongside the usual day-to-day business carried out by our schools and services. Our plan is centred on the following five pillars of excellence:
Expert Governance
Quality of Education
Workforce and Wellbeing
Efficiency and Effectiveness
Public Benefit and Civic Duty
In summary, the strategic priorities and key measurements for each pillar are as follows: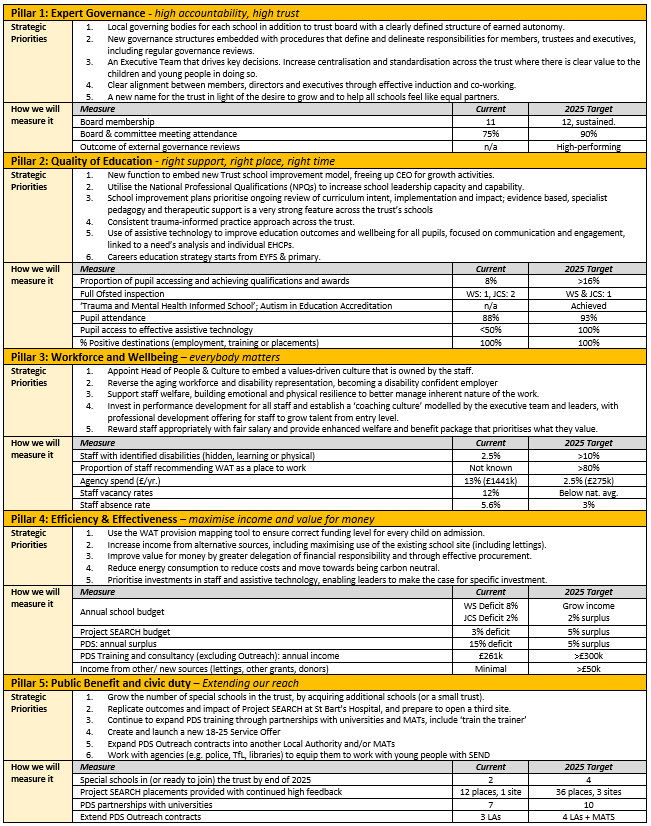 Thank you for your interest in our Trust. Further information about "Joining our Trust" can be found


This page also includes information about our Trust's approach to school improvement.